Aging with dignity and grace is possible with a little extra care and the right tools to promote mobility and independence.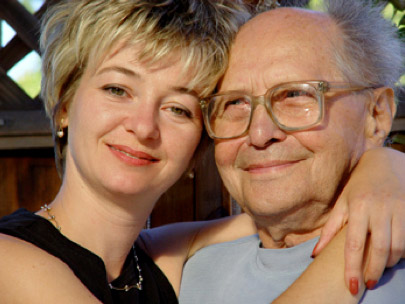 Give Dad the tools he needs to stay safe and independent.
Dignity — the quality of being worthy of esteem or respect — is important to people of any age, but its loss can be especially difficult to bear as we age. Fathers, who traditionally fill roles as providers of financial, physical and moral stability, may have a hard time when roles reverse and they need care and support. This Father's Day and throughout the year, find ways to help your dad retain his mobility and dignity. Besides being a gift to him, you too benefit from a healthier, happier parent.
Help him remain independent.
Dad may not be accustomed to admitting he needs help or asking for it, but you can look for signs. Loss of independence can result in anxiety or depression, drug dependence, loss of appetite, sleeplessness or chronic pain. If you notice any of the above signs, physical signs from falls or indications of an inability to move around the house, take action. You may still be able to keep Dad at home, but he may need assistance with getting around on his own.
Problem areas include getting out of beds, chairs and vehicles. Consider getting Dad a Bed Assist, a security pole that easily can be installed anywhere in the home, or a portable safety handle for getting in and out of vehicles. If he enjoys watching TV — and what Dad doesn't? — consider a combination swiveling tray and mobility handle. Look into the array of walking aids available, such as walkers or canes, a rollator or an ultra-light transport chair.
Provide him with "dignity tools."
Needing help in the bathroom can be embarrassing for the elderly, but with the right tools, Dad can retain his privacy and dignity. This Father's Day, consider stocking his bathroom with items that allow him to remain independent.
A bathroom safety checklist might include grab bars near the toilet and tub, raised toilet seats or commodes, bath benches and nonslip mats. Place personal care products within easy reach, and use The CareGiver Partnership's easy-to-use Incontinence Product Finder to assess his needs and find just what you're looking for. You can even sign up for a monthly delivery service, to ensure Dad receives the products he needs without the indignity of having to buy them in stores.
If he suffers from loss of hearing, there are affordable hearing aids and amplified phones to help him join in the conversation.
Remind Dad what he's done for you.
If yours is like many families, your dad would have gone to the end of the earth and back to find a way to provide for you. Even if you are now his caregiver, you can remind him of what he's accomplished in his life and how much you appreciate all he's done for you. Talk about the family trips you've taken and all the ways he provided for you, physically and emotionally. Ask for his opinion on things to show you still respect his thoughts and ideas. Surprise him with an outing, perhaps an activity you both enjoyed in your younger days. And don't forget the importance of laughing together often.
About The CareGiver Partnership.
The CareGiver Partnership is a national direct to consumer retailer and caregiver resource providing support, convenience and old-fashioned customer service to those caring for a loved one. The company's website provides the largest online library of resources on subjects which are most important to caregivers and offers more than 2,600 homecare products. Product specialists answer the phone within three rings and assist in helping customers choose just the right product. The company also offers its patent-pending automatically scheduled delivery service, Never Run OutSM which ships supplies automatically based on need.
The CareGiver Partnership was founded in 2004 by Lynn and Tom Wilson of Neenah, Wisconsin. Visit www.caregiverpartnership.com to learn more.